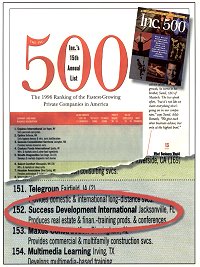 What if your company doubled in size next month? Now, what if you repeated that every month… for the next three years? That's pretty close to what happened at SDI from 1993-2000, when Emerson Brantley served as Vice President Corporate Marketing. Founded by real estate guru Ron LeGrand, Success Development International (SDI) created training courses and seminars for real estate entrepreneurs. When Emerson came aboard in June, 1993, the company was still a startup with only four employees, and hadposted only $300,000 in sales. By rapidly ramping up their direct marketing campaigns, by early 1994 SDI began experiencing 1500% annual growth, which continued for the next four years. This led to TWO consecutive Inc. 500 listings (1995 & 1996) before going public with a market capitalization calculated at €132,000,000 as International Media Holdings, Inc.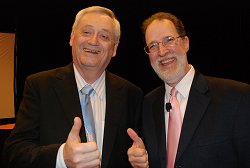 The Cash-Flow Generator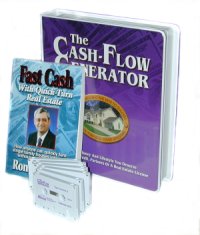 Along with thousands of direct mail, email, print and radio campaigns, Emerson's most recognizable landmark accomplishment during his SDI/IMH years was his creation of the Cash Flow Generator "Special Report" and TV infomercial. First written in 1993 (originally as "America's Perfect Home Based Business" before he renamed it the Cash-Flow Generator in 1994), this "Special Report" is actually a carefully-crafted sales letter, containing some actual "how-to" material, but leading the reader to a compelling sale of the company's keystone courses. Emerson wrote and produced four lead-generating Cash Flow Generator television infomercialsbeginning in 1994. In the first three years alone the CFG generated over $2.4 million in direct front end sales… AND an incredible $1952 in average back end sales for each and every CFG purchased! His CFG and the backend campaigns he created were credited as the drivers of the phenomenol growth of SDI.
The Longest-Running Profitable Lead-Generating Infomercial In History
Conventional wisdom holds that "all leads cost money." The Cash Flow Generator not only made money on the front-end, it enjoyed an astounding $1.28:1 MER (Media Earnings Ratio ($1.28 of profit over every $1 of media costs). In other words, although its purpose was just to create new leads, the Cash Flow Generator actually made money on every lead. Through constant testing and tweaking, airing in up to 70 television markets each week, it was a highly-profitable lead generator… a proverbial "endless lead machine." IMH maximized the value of this program to generate over 200,000 new paying customers for their higher-priced courses and seminars, while producing front-end profits for the company every week that made the program self-sustaining.
View the Cash Flow Generator Rice Brothers' Intro (5.7 meg) (aka the "Home Business Journal)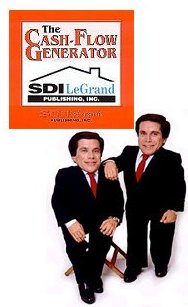 Emerson built the fourth infomercial around the personalities of John and Greg Rice. These two dynamos, self-made real estate millionaires in their own right, listed in the Guinness Book of World Records as "The World's Smallest Twins," had already spoken at SDI's national SuperConferences for three years. Concerned with image, senior management was reluctant to use John and Greg as spokespersons, but Emerson's perseverance paid of with an enormously successful and profitable show used virtually unchanged by IMH through May 2003, when the company's marketing assets, specifically its 200,000 name customer database and the Cash Flow Generator, were acquired by Russ Whitney.
Whitney International Network, or WIN (RUSS.PK) used the infomercial even more extensively than SDI, ramping up the media buy to fill seats for their own "Cash Flow Generator" Seminars around the country. WIN reported to the SEC, in their 8K filing for June – November 2003, that the program had already generated60,000 new registrants and $6.8 million in new revenue in the first five months. WIN projected the CFG would continue to bring in 10,000 new customers a month for the following year. Their 10K Annual Report filed with the SEC reported that by the end of 2003 the still strong Cash Flow Generator brand had earned almost $3 million more for the company, for a total of $9.5 million in only 7 months, or 10% of their total 2003 revenues — from a front-end lead-generator. WIN still uses the show today (although John Rice passed away unexpectedly in November 2005), establishing the "Cash Flow Generator" as the longest-running profitable lead-generating infomercial in history.
SDI's Cash Flow Generator Starter Kit, like the show, went through ongoing testing, analysis and alterations (as should all great marketing). At times it included audio or videotapes or a book, but normally sold for $49 – $59 (over 200 price points were tested during its 12 years of use by SDI). The only constant in the kit was Emerson's original special report/salesletter. In spite of constant, ongoing tests,
Emerson's powerful Cash Flow Generator report, the infomercial and the brand has never been beaten for response since 1993.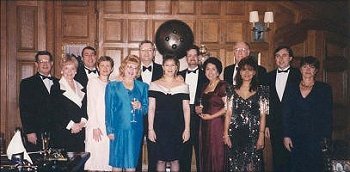 View Other SDI/IMH Marketing Examples
Click Here For Specific CFG Campaign Results Numbers