W. Emerson Brantley III, BA, MCL, CME
Master Marketer & Copywriter, Speaker, Trainer, Business Coach
CEO, Embrace Your Market!
As a Master Marketing Strategist & Compelling Copywriter, Emerson Brantley has masterminded thousands of successful print, mail, email, online, and broadcast campaigns for his national and international clients.
His copyrighted Embrace Your Market! System has helped thousands of business of all sizes reach the exact customers they want at a fraction of the cost, uncertainty and stress of traditional marketing.
Although the founder of Embrace Your Market! is probably best-known as creator of the longest-running profitable lead-generating infomercial ever aired, the "Cash Flow Generator," his extensive career in marketing, sales and business growth spans 35-years and over 8600 campaigns. The hugely successful CFG infomercial ran over 14 years, first for investor trainer Success Development International (generating millions in sales nationwide, three years of 1500% growth, two Inc. 500 listings, a successful merger and a €132,000,000 IPO) and later by Whitney Information Network, Inc. (OTCBB:RUSS). This one program was credited with creating $6.8 million and 60,000 new customers in its first six months, with tens of millions of dollars of ongoing revenues reported in the company's SEC filings.
In 2011, with only five days notice, his first campaign for brain training expert John Assaraf (featured in the hit movie "The Secret") completely shut down the company's servers. When 2200 attendees packed the rescheduled webinar, 1668 took the trial offer and 15% bought the $997 package, solely from the email messaging and scripts Emerson created.
"Emerson's created the copy, the strategy and
tweaked it to the point that our servers have been crashing
on some of our campaigns!"
~John Assaraf, PraxisNow, Featured in the hit movie The Secret
On other campaigns in 2012 he achieved as high as 17,859 webinar registrations, up to 5,442 attendees for a single event, and his automated webinar reached $10.52 EPC (Earnings Per Click) and $2.41 per email. Testing alone for this massive campaign totaled 834,644 promotional messages with approximately 5,128,974 total impressions, more preliminary testing than any other known online campaign of this type. The program was recognized in the final four "Ultimate Marketer of the Year" nominations for 2012.
Other examples include 41.55% conversions reported by Business 2.0 magazine (for Millionaire magazine); three years of unparalleled 1495% annual growth and TWO Inc. 500 listings for SDI before their successful €132,000,000 IPO; national campaigns attracting investors from all 50 states; and 3000 media events in a single weekend for American Forests.
"The thing I love about Emerson is that he has this way of coming up with t
he most elegant solutions to the most daunting challenges.
He never ceases to just absolutely astound me with his ingenuity, creativity and innovation. He can work at a high level and take it down to a tactical level. That's a skillset I just haven't found with most marketers.
Emerson IS my 'Go-To-Guy' when it comes to marketing and strategy."
~Edwin Kelly, Equity Trust, Largest U.S. Trust Company, 40,000 Clients,$30 Billion Managed Assets
Emerson helps clients reach their true markets and achieve quantum growth through highly-targeted, compelling marketing messages that drive in more traffic, convert more prospects, and generate more dollars per customer.
It is this breadth of experience that is the core foundation of the Embrace Your Market! concept.
His national, international and local strategic marketing expertise has been relied on by a wide diversity of companies ranging from Fortune 100 giant Fruehauf Corporation to small startups; from global air freight leader Emery Worldwide to top infomarketing gurus; from local small businesses to America's oldest non-profit American Forests, where he spearheaded national joint ventures with Walmart, Veterans of Foreign Wars, National Baseball Hall of Fame, Wright Brothers National Memorial at Kitty Hawk, and many others. Dozens more case histories and campaign results may be found at www.WEB3Direct.com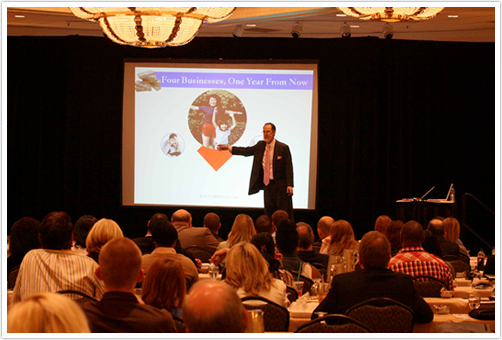 Emerson has produced or marketed over 1000 events and presented before audiences of up to 20,000 people across the U.S. and in Canada, including the Ministers of Tourism from the entire Caribbean. His simple, common-sense steps to Embrace Your Market! will revolutionize any size business' marketing results and take you to the next level. He has written or co-authored business books including the Wall Street Journal #5 national bestselling business book Creating Success From The Inside Out (Wiley, 2007); 21 Secrets of Real Estate Millionaires; The Maxims of Marketing, Creating Marketing Currency, Internet Profits Now; How It Gets Done; Core Asset Protection Strategies, and dozens of courses, manuals, sales pieces, manifesto-style special reports and guest feature articles. Brantley received his Bachelor of Arts degree, magna cum laude, from Florida State University, and holds international professional listings in Who's Who of Business Leaders Worldwide and Certified Marketing Executives. He has served on many civic, business and non-profit boards, and is Past President of Sales & Marketing Executives.
For more about Emerson Brantley and specific case history examples of his campaigns,
visit WEB3Direct.com
To engage Emerson for speaking, coaching, training or other consulting, or to enquire about any of our done-for-you programs, email Info@WEB3Direct.com or call 904.419.7342