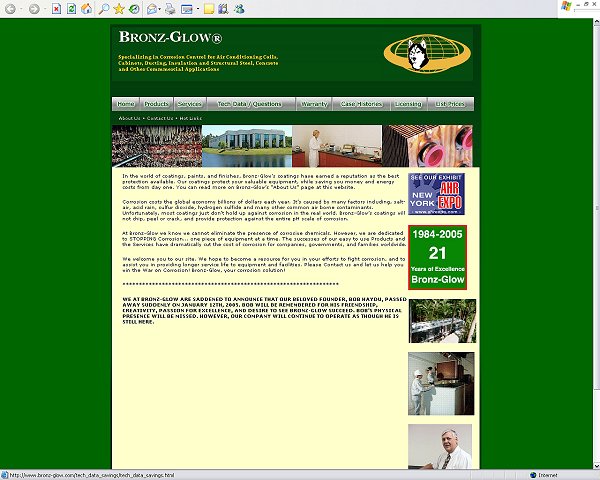 From 1991-1993 Emerson Brantley served as Vice President Vice President Marketing & Sales For Bronz-Glow Coatings Corporation. In 2002 Bronz-Glow again contracted with him for consulting services, including website rewriting and search engine optimization, as well as trade show expertise for the industry's largest show, the annual ASHRAE (American Society of Heating, Refrigeration and Engineering) Convention. The copywriting challenge was to maintain the decorum of an engineering/contractor-oriented website, while making the message compelling AND searchable by the major search engines. Emerson continued to work with the company until the death of the founder in January, 2005.
The company manufactures patented anti-corrosive coatings, and dip-processes equipment in-house. Their clientele is international, and their product is considered the most effective anti-corrosive coatings process in the world.
Bronz-Glow's extensive list of clients include the U.S. Navy, Army Corps of Engineers, U.S. Coast Guard, Kmart, Sears, J.C. Penney, Walgreen Drugs, Costco, Georgia Pacific, River Wood International, 7-11 Stores (Southland Corporation), International Paper, Hess Oil, Chevron, Shell Oil, Whirlpool, Sea World, Darden Restaurants, McDonalds, Club Med and many more. All have discovered they save money when their equipment is protected using Bronz-Glow protective coatings.
In June, 1993 Bob Haydu, the founder of Bronz-Glow, had this to say about Emerson when he nominated him for national recognition and achievement as a Certified Marketing Executive (at that time only 300 marketing executives worldwide had ever received this award), which he later received:
Emerson Brantley has handled the marketing duties of Bronz-Glow since September of 1991. Immediately after coming aboard he began creating all of the marketing support material for our new Husky products line, including packaging, brochures, technical support sheets and press releases.

Other areas of responsibility have included the development of all current warranty programs for our company, including our 60 month replacement warranty, the first in our industry; the restructuring of our National Accounts program; writing and editing of our first newsletter; numerous professional public presentations; and the establishing of new distributors and OEM accounts from leads generated by his department. Emerson produced articles featured in several national and regional publications, and served as my co-author on a detailed technical chapter for the Maintenance Engineering Handbook (published by McGraw-Hill).

As Vice President of Marketing & Sales he has also been involved in day-to-day customer contact, sales and service.

He has demonstrated a consistently innovative and bold approach towards our market, generating significant results and growth during a period of general economic decline industrywide.

He has shown thoroughness and professionalism in every area in which he has been involved, and I would highly recommend him as a candidate for the Certified Marketing Executive Program through Sales and Marketing Executives International.

— Robert Haydu, Bronz-Glow Coatings Corporation, international manufacturers and distributors of anti-corrosive coatings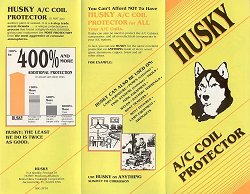 The Husky line of products had just been developed when Emerson came aboard. He named them, created their logo and all marketing materials, and using PR and industry presentations, created a successful national launch for the new line.
After revamping the company's National Accounts Program, Emerson created the Husky products national Co-op advertising program.
Working closely with the FTC, Emerson wrote an industry-first warranty program, still in use today. This unique warranty actually covered the repair or replacement of the equipment that Bronz-Glow coated, and successfully established Bronz-Glow as a market leader in a crowded field. (View the warranty on the BGC site)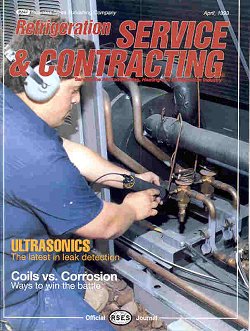 His local and national public relations campaigns for the company enjoyed a 95% publishing ratio, including landing the front cover article position for the largest industry publication, Refrigeration Service & Contracting magazine. This article, essentially a four-page salesletter, was reprinted word-for-word, and resulted in increased direct sales for over three months after publication.
The lead-generating programs Emerson developed opened the doors to new accounts including Sears, Roebuck & Company (Chicago home office), Whirlpool Engineering, Friedrich Air Conditioning and many others. He worked closely with Sears' engineers for the 8 long months it took to pass their field testing of the Husky products
Another direct marketing breakthrough during this time was Emerson's creation of the electronic Husky Fax newsletter, whose first issue generated $170,000 in new business in 2-week test.
In addition to marketing collateral, Emerson was also called upon to write safety manuals and MSDS sheets for all products, and co-authored a technical chapter forMcGraw-Hill's Maintenance Engineering Handbook, which is still being published as an industry reference.
Utilizing an "under-the-radar" approach to break into government markets, Emerson also wrote and submitted new government specs. These were incorporated by the GSA and military, appending a 44-year old standing specification. The government also used his fully exclusive spec description word-for-word, meaning Bronz-Glow and only Bronz-Glow alone could be used under the new spec.
Today Bronz-Glow anti-corrosive coating is specified in many Government and Military Specification Guides. It is utilized extensively by the U.S. Navy, Coast Guard, Federal Aviation Administration, Army Corps of Engineers, and other government agencies. Bronz-Glow protects equipment in many highly-corrosive operations, such as Waste Water Treatment, Power Generation, Sugar Refining, Oil Refining, Pulp Paper Mills and more.