Fruehauf Corporation was a sixty-two year old Fortune 100 company, founded in 1913 and best known for its trailers for over-the-road rigs. The company's Shipyards Subsidiary, which included Jacksonville Shipyards, Inc. and Maryland Shipbuilding & Drydock in Baltimore, contributed $185M of the company's $820M in revenues in 1976. Not surprising, because even at that time, a single ship paid around $10,000 a day just to be in drydock! Emerson Brantley was selected right out of college as the first Director of Marketing & Advertising for their shipyards subsidiary, itself over 100 years old. Pretty heady stuff when you're 19!
His initial duties were to create a marketing operation, and oversee marketing for two divisions purchased by the shipyards: Key Houston, a manufacturer of sandblast equipment, and Electro-Lube Devices, Inc., manufacturers of a unique on-engine oil refiner system. During his two-year engagement he was ultimately given responsibility for all marketing for five divisions, inlcuding ongoing international marketing for the Jacksonville and Maryland Shipyards.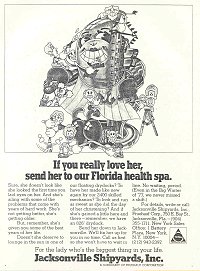 While many of his campaigns were considered extremely outside-the-box for international industrial advertising at the time, their success silenced the critics.As an example, his playful "grand old dame" cartoon touting the wonders of the company's "Florida Health Spa" stood out in stark contrast to the standard fare found in most industrial advertising. Fruehauf was an old, extremely conservative company. Although there was some initial resistance to the image the ad presented, it won accolades and awards for Fruehauf (and generated direct inquiries from major shipping companies around the world). No other ad the company had ever run created nearly the response of the fun and effective "Grand Old Dame (Florida Health Spa)."
Emerson revised and recreated all of the company's marketing materials, even down to their training and safety materials, recruitment brochures and other materials used at job fairs. Materials at the time were shoddy, poorly printed pieces that created little interest.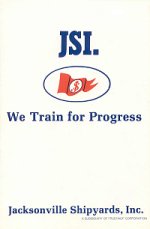 Although with 2500 employees the company was the second-largest employer in North Florida (after the U.S. Navy), JSI had never had a themed recruiting campaign. Emerson developed the "JSI. We Train For Progress" brand campaign, which was still in use in 1993, when the shipyards division was sold. He also designed an innovative animated logo for video and filmwork, incorporating a stylized ship slipping into a drydock, forming the initials JSI.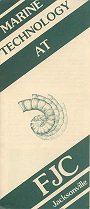 The Shipyards sponsored the Florida Community College's (now Florida Community College at Jacksonville) Marine Technology Department. Their existing student recruitment material consisted of rough photocopies of course descriptions stapled together. Emerson designed an innovative yet inexpensive one-color 11 x 17 4-fold brochure that incorporated all of the information in an interesting and exciting way, dramatically enhancing the image of the program and their recruitment results. Using screening and ivory paper, he created a visibly interesting piece using only one-color printing.
Emerson was also appointed a representative of the Maritime Ad Hoc Committee to the Florida State Legislature. This group represented maritime interests against the proposed Dames Point Bridge, positioned at a critical point in the St. Johns River. This major legal battle culminated in the decision shifting the location of the bridge 500 feet upstream, away from the shipping danger zone. He was an active participant with the committee, prepared briefs, scale models and other materials presented before the state legislature.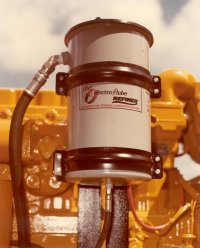 ElectroLube Devices, Inc. had a new oil refining product that worked on engines as small as automobiles and as large as ocean tankers. The shipyards had literally just bought the company from the inventor! The challenge was penetrating markets and convincing them of their need for this new product. For ElectoLube Emerson…
Redesigned the logo and all collateral materials for the company
Created a multimedia presentation used by distributors worldwide for seven years
Designed a 10 x 12 tradeshow booth and represented the company at various industrial shows.
He also actively pursued international PR opportunities, successfully getting articles published in prominent industry publications such as Design News magazine, resulting in hundreds of high quality engineering leads.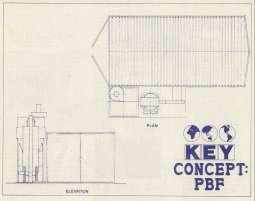 The very first project Emerson was assigned was for the company's Key Houston Division, which had a breakthrough, environmentally-sound product years ahead of its time, and no idea how to market it. For Key Houston, he created a branding and informing campaign, specifically addressed to engineers and contractors. This included…
Writing, directing and producing a ten-minute continuous-loop sales film used by reps around the world for twelve years as a desktop presentation
Designing a low-cost, highly-effective and innovative "blueprint" brochure
Creating an accompanying ad and postcard campaign for international industrial publications that is considered among the first direct response ads in the industry. It raised some eyebrows among Fruehauf's traditional management for being too "forward." It was extremely successful, and used continuously for two years. See if it sounds to pushy to you!
Designing a 20 x 20 industrial trade show booth and representing the company at the two largest industrial trade shows of the day, the American Welding Society show in Philadelphia, and the Offshore Technology Conference which filled Houston's Astrodome and Astrohall. Both were two-week shows with over a thousand top international companies exhibiting.