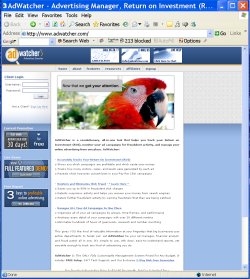 Adwatcher is a software tracking program (either local or online) to monitor the activities of all online advertising. This comprehensive program even tracks click-thru fraud, a growing problem with pay-per-click marketing (PPC)..
Our multi-part project for AdWatcher included a "special confidential report" to sell their product to prospects "under the radar." The result was "The Three Keys To Profitable Online Advertising." Emerson created the report, sharing key direct marketing tips for small business owners (along with a strong call to action close to use AdWatcher). Then he, along with Dave Montgomery on our staff, created their entire search engine optimized (SEO)/Compelling SALES website, with the report as a central incentive item to capture the names and emails of their visitors. The result has been exceptional response and conversions to the company's new state-of-the-art Ad Tracking software.
After completing these components, we again went to work writing PPC ads for Google and other search engines. The founders of AdWatcher, PPC pioneers Boris and Eugene Mordkovich, were also writing a thorough training guidebook for pay-per-click advertisers. When the first website was complete, the company asked Web3Direct to write another website to market their book, the Pay-Per-Click/Search Engine Marketing Handbook.