We at Web3Direct believe that the objective of good marketing is to constantly improve results. We have over 237 combined years of experience in increasing results, experience earned through thousands of direct marketing campaigns. And we are never satisfied: Today's best is tomorrow's test!
Although we have created hundreds of campaigns which have never been beaten, even after 14 years or more, we believe every campaign (even our own) CAN be beaten! There is NO unbeatable control, and no matter what results you've enjoyed in the past, we know we can make them better. That constant improvement is what builds your customer base, explodes your back-end marketing and increases your bottom-line profitability… giving you the most marketing bang for the least bucks.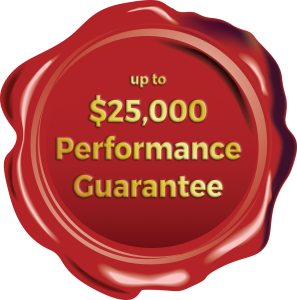 Who & What Is Covered
For every client that retains our services for 90 days or more, we guarantee that we will increase whatever "best response" you have had from your existing marketing campaign. In most cases, this can be accomplished on the initial test of the new or updated campaign. Direct mail, direct email, website conversions, radio or television spots or infomercials, and most other measurable direct response marketing campaigns qualify.
What We Will Do
If the initial campaign or piece we create for your campaign does not increase your historic response, we will rewrite the copy and make other changes necessary for up to two additional tests for no charge. If, after testing the new revised campaigns, we still do not produce an increase in response, we will refund one full month's paid base retainer fee, no questions asked, up to $25,000.
How It Works
It is essential in a performance guarantee that both parties agree on the scope and limits of the performance. For marketing campaigns, this involves the new marketing objectives as well as the benchmark (historic) campaign or piece and its verifiable response numbers and timeframes. Different campaigns have different goals; all results metrics and goals must be agreed upon in advance.
1) Benchmarks for base response must be based on actual response data from the previous campaign(s), and these specifics must be included in writing in the contract prior to acceptance by Web3Direct.
2) If no previous verifiable numbers are available, or if test numbers are too small to be statistically valid, client may wish to run a specific test campaign with tracked and measured response, using their existing material. In this case, these numbers will be used as the benchmark for this guarantee.
What You Must Do
1) Web3Direct must have full access to all response records for the benchmark as well as the new campaign, including ad tracking programs, traffic tracking programs, telemarketing records, sales reports, etc.
2) For telephone responses, an independent telemarketing company or other fulfillment company that can handle spikes in response 24/7 will be used, unless otherwise agreed to in advance.
3) It is understood that client must use the recommendations, campaigns and materials Web3Direct provides, and establish verifiable tracking processes to monitor results. It is also understood the client must be committed to continuing the marketing campaign to better the results in those cases where necessary.
4) In some cases a two-step campaign, change of offer or other alterations may be recommended to improve results over an existing campaign.
What Is Not Covered
1) Refund amount will be determined based on the monthly retainer base amount, and does not include any additional expenses incurred by client or Web3Direct such as printing, postage, etc., other consultation fees including onsite or travel costs, success fees or any fees related to other projects.
2) One-time or "spot" projects, or projects with no historic benchmark, do not qualify for this guarantee.
3) Guarantee applies to current and new clients who retain our services and remain current. All fees are paid in advance by the first of each month. Late payment, nonpayment or cancellation in lieu of revising and followup campaign testing voids this guarantee.
As our long-term clients know, Web3Direct is committed to not just increase results, but to continually increase results, building multiple campaign strategies to maximize your profits and increase your revenue per customer. We consider our relationship with our clients as "marketing partners." We share every insight and concept possible, to help our clients dominate their market. As your partner, our vision is to stay the course and make every campaign we do for you increasingly better and more profitable, both on the front-end and the back-end.